FIFTH CHAKRA - THROAT CHAKRA
(Consciousness Acting on Energy)



Also referred to as:

Vushuddhi (to purify)




Gateway to the Spiritual Aspect of Man




Voice of the Soul




Chakra of Communication




Chakra of Purification




Cervical Center




Center of Great Purity
The function of the Throat Chakra is to influence the Thyroid Gland that, in turn, affects the balance of the Nervous System, metabolism, muscular control and body heat production.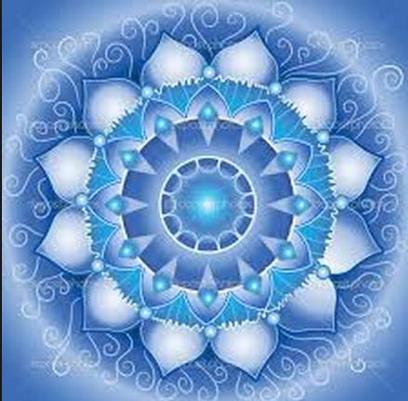 This is where we receive our "little inner voice" that talks to us and gives us advice and a shove in the right direction. This is the pint of Clairaudience (clear hearing) and also group telepathy. This is where your higher Self, or Soul, communicates with your Conscious Mind.
If a psychic is having problems with this Chakra, she/he is probably having problems with "reception". This area also tells you when you should be speaking up and you aren't...through a sore throat or laryngitis.

When this Center is awakened:

The individual will become aware of increased telepathic abilities.




The knowledge of Universal Laws comes in




It will have the ability to transmit thought waves to other Centers.




Increased ability to express and communicate the "truth" of things as the really are...unique and distinctive.




A strong desire to relate to relate to others the awarenesses and growth processes that are being experienced. (The relating of these experiences may result in the loss of old friends who find it impossible to relate to the "new you". By the same token, many new friends will come into your vibration.



LOCATION:

Base of the Larynx




Pharyngeal Plexus – Superior Cervical Ganglion



SYMBOLIZES:

Communication




Spiritual Understanding




Faith




Devotion




Patience




Truth




Sincerity




Tranquility



RELATES TO:
Thyroid/Parathyroid Glands




Bronchial




Nerves




Ears




Muscles




Lungs




Left eye




Neck




Shoulders




Arms




Hands



COLOR ASSOCIATION:

Activator: Blue (brings peace, enables you to speak the truth, strengthens the Inner Teacher




Antidote: Red



ASTROLOGICAL SIGN(S)

Pisces (blue)




Sagittarius (blue/purple)



BACH FLOWER REMEDIES:

Agrimony (#1) fusing thinking and feeling




Mustard (#21) trusting self, even in difficult times




Wild Oat (#36) communicating from your deepest Soul




Willow (#38) making space for creativity



ELEMENT: Ether

EMOTION: Inspiration

ETHERIC COLOR AND ACTIVITY:

Electric Cobalt




Royal Blue




The Manifestation of Divine Will




Protection




Expression into form



FOODS: Fruit

GEMS:

Aquamarine (expressed Universal Truth)




Blue Lace Agate (balance glandular system, assist in expressing truth through the spoken word)




Crysocolla (Thyroid imbalance of throat problems)




Celestite (attunes one to higher realms)




Sodalite (soothes throat ailments)




Azurite (enhances spiritual awakening, increases insight)



HERBS:

Red Clover (assists in allowing a free flow of communication and self-expression)




Kelp (stimulates metabolism, activates Thyroid, absorbs waste from body fluids, detoxifies system)




Cayenne (a natural antibiotic, stimulates circulation, will stop external bleeding)




Mullein (treats congestion within Lymph System, remedy for ear infections)



INCENSE: Benzoin, Frankincense

INNER SOUND: Ocean Roar

METAL: Mercury

MUSICAL INSTRUMENT: Human Voice, Flute, Woodwinds

NOTE: G#

PERSONALITY: Idealistic Type – Memory Oriented

PLANET(S): Mercury

SENSE: Principle of Hearing (Sound)

(organ) Ears (Vocal Cord)



SPINAL ASSOCIATION: 5th Cervical

SUBTLE BODY: Spiritual/Causal

TAROT ASSOCIATION: Hierophant

TONE: U (as in true)

DEITY, ENERGY, VITAL FORCE:

Sasdasiva (redeemer of sins, liberator of sufferings)




Sakini (It is said that this energy is so great that not Brahman, Vishnu, Surya [God of the Sun] nor Ganapati [God of Wisdom and Protection of Obstacles] can control it.)




Other: Hermes, Muses, Brigit, Seshat, Nabu



POSSIBLE SPIRITUAL EXPRESSION:

Quaker




Spiritualist




Mantra Yoga




Private Worship



LESSONS:

Communication and assimilation




Too much Yin creates problem in communication and an ability to express Self clearly.




Too much Yang results in a tendency to dominate any form of communication.



When the Throat Chakra awakens, the Clairaudient (clear-hearing) faculty comes into play. You may hear voices, music and other sounds. When the Chakra is completely awakened, it allows the person to be Clairaudient as far as the Etheric and Astral Planes are concerned.

When the color Lavender comes into the Throat Chakra, the Voice of the Soul is communicating with the individual.

Those who experience a balanced Throat Chakra energy will be observed as being entered, living in the now, a good speaker, prolific, and able to meditate and easily understand spiritual teachings as they are resented.

Those who experience an excessive Throat Chakra energy will be observed as being arrogant, dogmatic, self-righteous, addictive and will talk too much.

Those who experience a deficient Throat Chakra energy will be observed as being scared, timid, weak, unreliable, devious and inconsistent.

The Thyroid Gland, situated above the line of the shoulders, is instrumental as the site of the Power of Voice or the Will. Its hormonal activity is responsible for either the laxity found in not having the will power to avoid food, for example, or for inspiring activity in worthwhile ventures.

If the Throat Chakra is not in balance, some of the dis-eases that may be experienced are:

Sore throat




Stiff neck




Cold-flu




Thyroid problems




Hearing problems