THIRD CHAKRA -
SOLAR PLEXUS CHAKRA
(Condensed Light-Color...Consciousness Acting on Matter)



The Third Chakra relates to our self-confidence and self-esteem and how we deal with other people. It deals with mastery in the Physical Realm and, if not in balance, a definite lack of these attributes will be known to exist. A victim-consciousness will be exhibited.

Also referred to as: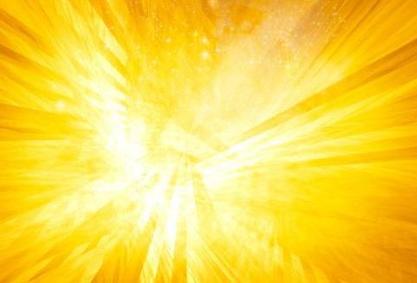 Manipura (filled with jewels or jeweled city, the hub of will power)




Chakra of the Sun (Power Center)




Gem Center




Lumbar Center




The brain of the Material Man




The distribution point of psychic energies



The function of the Solar Plexus Chakra is to influence the Adrenals that, in turn, affect our:

Sympathetic Nervous System




Muscular energy




Pulse or heartbeat




Digestion




Circulation




Moods



This is the area of the "Emotional Mind". This is the point where you get knots, or butterflies, when you are anxious. If this Chakra is operating improperly, it will adversely affect all of your psychic centers and/or energies in the body and will create an unwelcome, general imbalance and dis-harmony.

This Center is associated with:

The Sun and the Ego.




It is the center of digestion.




It is the Center of personal power, strength and intelligence.




Ancients believed this to be the Soul of Man.



Paramahansa Yogananda stated that it is controlled by the Conscious Mind and "can be trained in introspective, creative thinking that will then provide access to, and influence on, the Sub-Conscious".

In Martial Arts this is the Center of Chi, the Life Force System, and thus relates to physical abilities and athletic prowess. Contemplation on this Chakra will lead to knowledge of the physical organism and its functions.

When this Center is awakened, the consciousness of the Personal Soul also awakens. Realization comes that the Personal Soul is the personal spiritual consciousness that pervades all dimension of evolution.

Abilities that may come into being with the awakening of this Chakra are:

The mastery of fire.




Seeing the body from within




Freedom from disease




Loss of prejudice and/or personal bias.




Locating hidden treasures.



This Center is the starting point of Evolution. It is the Center through which one feels the emotions of the Universe, where the Physical Body transmutes Cosmic energy into usable Physical energy. It is the distribution center for psychic energies.

AGE: 14-21 (it is here will power, ego, and individuality come to the fore)

LOCATION:

At the Solar Plexus, just above the Navel




Plexus: Solar



SYMBOLIZES:

Happiness




Joy




Charm




Persuasion




Comfort




Jealousy




Assistance in tuning into the Wisdom of the Universe.



RELATES TO:

Sympathetic Nervous System, Diaphragm, Adrenals, Digestive organs, Skin as a system




Muscular energy




Moods




Metabolism




Circulation




The breath




Combustion and magic




Individual's perceptions of power and controL



ENDOCRINE GLAND: Pancreas

COLOR ASSOCIATION(S):

Activator: Yellow Amber (gives mental clarity)




Antidote: Violet



ASTROLOGICAL SIGNS:

Taurus (Yellow/pink)




Libra (Yellow)



BACH FLOWER REMEDIES:
Aspen (#2) overcoming fear




Hornbeam (#17) being able to achieve personal goals




Larch (#19) self-awareness




Scleranthus (#28) balance within self




Star of Bethlehem (#29) ability to act from inner joy



ELEMENT: Fire (the Sun)

ESSENTIAL OILS: Birch, Eucalyptus, Juniper

ETHERIC COLOR AND ACTIVITY:

Ruby-Violet-Gold




Peace, love of nature and the elements, service to mankind



FLOWER ESSENCE: Sage, Angelica, Marigold, Rosemary

FOODS: Starches, yellow fruits and veggies''

GEMS:

Citrine (aids in digestion, frees up breathing)




Turquoise (increases healing powers, steadying influence)




Malachite (joy, emotional purge)




Yellow Topaz (bring able to achieve personal goals)




Apatite (enhances flow of communication)



HERBS:

Marshmallow Root (releases the third Chakra and softens personal efforts to control life)




Yarrow (increases circulation will expel gas from stomach, fever remedy for liver, lung and kidney problems)




Blessed Thistle (increases digestive circulation, useful for liver, lung and kidney problem)




Cinnamon (warms the organs, treat chronic diarrhea, cramps, abdominal pains and lover back pains)



INCENSE: Carnation, Cinnamon Marigold

INNER SOUND: Astral Harp

METAL: Iron

MUSICAL INSTRUMENT: Cello, guitar, oboe, piano, violin

NOTE: E

PERSONALITY: Intellectual Type – Thinking Oriented

PETALS: Ten

PLANET(S):

REALM: Spiritual
SENSE: Principle of Sight (also of light)

SOUND: CUE

SPINAL ASSOCIATION: 12th thoracic

SUBTLE BODY: Lower Mental/Objective (material)

TAROT ASSOCIATION:

Emperor (he will achieve his goals)




The Sun (open and honest)




The Suit is Wands



TONE: A-O-M (ahh-ooo-mmm)
VEHICLE: Ram

WORLD: Maharloka-Svarloka

ARCHANGEL: Michael

DEITY, ENERGY, VITAL FORCE:

Rudra Shiva (The World of the Mind)




Shakti: Lakini (meditate here for power to create or destroy)




Other: Athena, Athene, Hellos, Amaterasu



POSSIBLE SPIRITUAL EXPRESSION:

Jewish




Thoravada Buddhism (the teachings of the Elders)




Karma Yoga



LESSONS: (This is the Chakra of the Shamans)

Dealing with power and ambition




Associated with communication with the Spirit World (includes dark powers)




Learning the importance of understanding your own dark side and transforming that energy into positive energy.




Fight clean...not "an eye for an eye".



EMOTIONAL ISSUES:

Trust




Self-esteem




Self-confidence




Sensitivity to criticism




Responsibility for making decisions



Those who experience a balanced Solar Plexus energy will be observed as being cheerful, expressive, spontaneous, outgoing, intelligent, relaxed with a strong sense of personal power.

Those who experience an excessive Solar Plexus energy will be observed as being very demanding, a work-o-holic, a perfectionist, judgmental, and will probably harbor hidden inferiority complexes.

Those who experience a deficient Solar Plexus energy will be observed as being depressed, confused, feeling that others control their lives, lacking confidence, worrying what others will think and having poor digestion.

If the Solar Plexus is not in balance, some of the dis-eases that may be experienced are:

Gall stones




Gastric and duodenal ulcers




Hypoglycemia, anorexia or bulimia




Colon and intestinal problems




Pancreatitis or diabetes




Liver and/or adrenal dysfunction
When this Chakra opens, Physical Mediumship can take place. Such events uncover astonishing areas of understanding and the learning to control our nocturnal experiences. As the Center unfolds, all types of astral influences will be recorded.
It is important that special attention be given this Center any time we find ourselves in an emotional, stressful bind (lost relationships, lost jobs, etc.) for this Center houses many "emotional cords" that require constant monitoring and removal.

A tiny invisible concentrated center of energy located in the Solar Plexus Chakra, called the Astral-Seed-Atom, is believed to contain the "quality" of emotions that have been encountered in every life that the Soul Mind has lived. It is often referred to as one of the Three Books of Life in the Bible.

The Emotional-Astral-Seed-Atom is an invisible concentrated Center of energy located in the Solar Plexus, attached to the Silver Cord; containing the quality of the emotions of the present and the future for the present incarnation, acts as an agent for the development of the Soul Mind. This Center contains the Psychic Knot of Shiva, which is an invisible, inverted triangle energy field. This energy field must loosened before the Kundalini can continue its upward journey.